Red Machine freshly oiled to take on 2017

It all started on 2 November, a mild November's evening some 136 days before the 2017 Premier season would be due to kick off. Over 50 players assembled at our Evans Bay gymnasium to hear from the newly installed coaching team at Marist St Pats.
The players were addressed by over 10 members of the coaching team and club management and heard about the new benchmarks that would be set for the 2017 season. There were new physical goals to achieve, new personal development tools available, a new vision from a newly formed coaching unit - and importantly, by the end of the evening there was a new buzz among those present.

Andrew Robinson and Bernie Upton are familiar faces at Marist St Pats. 'Robbo' has won 12 titles over the last eight years, including last years Harper Lock Shield, while Bernie has won a number of Jubliee Cup's as a player book-ending his professional career. But familiar as they may be, this is their first season with their hands firmly at the reigns of Marist St Pats' famous Premier side.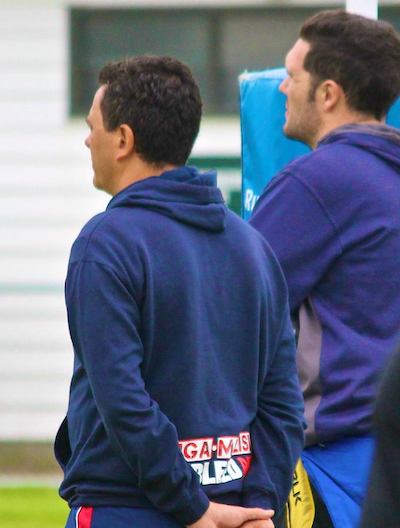 Robbo says preparations have been going on for a long time now, 'so it will be great to finally get into a competition game and will be a great start to go up against Tawa.'
'We have been getting big numbers to training's since the start of preseason and had a great internal camp a month ago followed by good hit outs against Petone, Tawa, HOBM and Napier Marist (the last two at Spillane over the weekend). We have tried to implement new systems, try different combinations, and give everyone a chance to put their hand up for selection.'

Working closely with the Premier Reserves, Colts and Women's coaches they have also aligned tightly with the newly formed High Performance Unit. The synergy throughout the teams is already noticeable and will be key as players inevitably move between sides as injuries occur during the season.
The messages have been about being the best team on the field while being the best people off it. Messages that have resonated with the players returning from last season and with those who are joining the club. Word must have got out as we had over 60 players attending fitness training in December.
On the personnel front, the core of the playing contingent that has played in two successive Jubilee Cup finals will return for another tilt at the title in 2017. With only a few significant losses (relocated overseas or out of the city) the team will enjoy stability on that front. No less than 18 of the 22 players who played the final last year will be running out in red once again this season.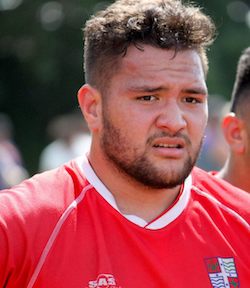 The club will also enjoy the return of a number of players who have come back to the club after a time away, including those who have been overseas and others who have returned from stints other clubs. It is great to see a core of our 2011 Under 21 champion team back in red including Wellington Lions prop Ha'amea Ahio (left), Sean Bridge, Corey Lawrence and Jack Taulapapa.
There are also a number of exciting new faces to join the club this season including the two Proctor brothers Billy (St Pat's College) and James (Oriental-Rongotai), midfielder Rez Tasele (Poneke) and inside back Dudley Parsons (Northern United). Our growing international contingent also sees new players join us from France and Japan.
The Premiers will be led by a new captain in 2017 with Valentine Meachen taking the reigns from the rake position where he looks to emulate his father Tony's 1984 exploits and captain the team to the Jubilee Cup title. Valentine is also set to bring up his 100th Premier game this Saturday!

While there is a fresh new look to this Premier set up, the team is anchored through the consistency of senior players. The way the team has come together over the past 136 days presents the promise of an exciting season ahead.
The Swindale Shield kicks off at this Saturday's Gala Day with our Premiers taking on Tawa at Awaikarangi Park. We look forward to seeing you there! Check our Facebook page on Friday for our starting lineup...

Marist St Pats - Gains/Losses

| Gains | | Losses | |
| --- | --- | --- | --- |
| Andrew Wells | France | Ben Fehoko | Injury |
| Ben Nansett | Did not play in 2016 | Gabe Papuni | England |
| Billy Proctor | St Patrick's College | Filipo Alefosio | Scotland |
| Brett Anderson | Christchurch | Jacob Taituave | Australia |
| Corey Lawrence | Oriental-Rongotai | Josh Foster | Hawkes Bay |
| Dudley Parsons | Northern United | Lote Raikabula | |
| Grayson Whitman | St Patrick's College | Fergus Grenfell | Old Boys-University |
| Ha'amea Ahio | Oriental-Rongotai | Frankie Bryant | Johnsonville |
| Jack Taulapapa | Did not play in 2016 | Marci Patafilo | Work commitments |
| Jackson Martin | Rarotonga | Nick Naylor | United Kingdom |
| James Ford | Wellington Axemen | Paul Churchman | Auckland |
| James Proctor | Oriental-Rongotai | | |
| Laurent Faivre | France | | |
| Meinrad Fitisemanu | St Patrick's College | | |
| Rez Tasele | Poneke | | |
| Sean Bridge | Did not play in 2016 | | |
| Stefan Prince | Dunedin | | |
| Takahira Yuki | NEC (Japan) | | |
| | | | |