Blues look to extend reign over Under 85kg grade

Thanks to Andrew Robinson for putting together this preview of the Under 85kg final...

The Marist St Pats Blues play in their fifth straight Under 85kg Division One Paul Potiki Memorial Shield final this Saturday having played in all six finals played in the last eight years (no finals were played in 2006 and 2008). They will play the Tawa Titans at Lyndhust Park, kickoff at 2.30pm.
The Blues have had another impressive season losing only one match so far to a last minute penalty against final opponents Tawa. The team retained the first round JC Bowl for the 5th straight year and were also made the inaugural holder of the Centurions RFC Cup to be defended in every round robin home match, so the team will also hold this trophy for the summer.
The Paul Potiki Memorial Shield is the most important trophy to the Blues having won the final the last three years and this should be a great match against clearly the top two sides in the competition this year and whoever wins this final will deserve it.
With a lot of new players introduced this season the current Blues side has worked really hard to get to this point and have been well lead by captain and first five David Rice. The team has played some outstanding rugby on the field and had some good nights together off it.
The Blues have scored 780 points in 17 games this season (45.88 points per game) including 119 tries and have topped 50 points in 10 games so far this season. The team has only conceded 57 points in total with their line crossed being only three times all year.
Midfielder Jared Hammington leads the try scoring with 14 followed by wingers Todd Young and Will Jurie with 11 tries each. Wellington Firebird and Blues fullback Mark Houghton is a prolific goal kicker with 175 points in the season so far (including four tries) from 14 games played.
Not only are the Blues consistently at the top of the Under 85 grade, they are consistently the most successful team in the club, we wish them all the best for Saturday!
Check back next week for video highlights...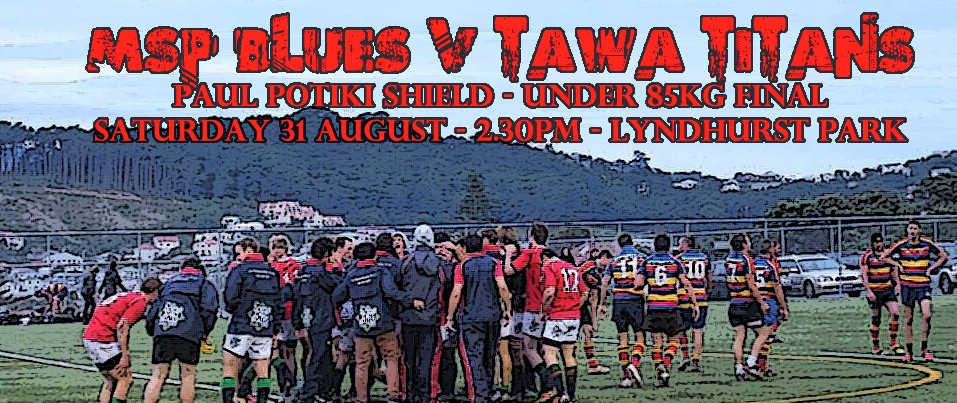 The Statistics:
Semi Finals:

MSP Blues 61 beat Eastbourne 8
Tawa Titans beat OBU Spartans 5
2013 Points for and against (17 games played):
MSP Blues 780 - 57 (+723)
Tawa Titans: 458-121 (+337)
The Paul Potiki Memorial Shield has been played for since the grade began in 1996, the MSP Blues were formed in 1997 and have played every year since.
Paul Potiki Memorial Shield - Recent History

Year

Winner

Runner up

Final Score

2006

Poneke Dogs of War

MSP Blues

No Final Played

2007

Poneke Dogs of War

MSP Blues

7-0

2008

Poneke Dogs of War

Wellington

No Final Played

2009

Wellington

MSP Blues

15-9

2010

MSP Blues

Poneke Dogs of War

17-13

2011

MSP Blues

Poneke Dogs of War

11-3

2012

MSP Blues

Tawa

26-6