Double success for under-85s
MSP's under-85s enjoyed a great weekend on 25 June with two teams taking out their grades. In Division 1, the Andrew-Robinson coached side (top right) won the JC Bowl Trophy for the third consecutive year.
The Blues hammered Wainui 54-7 to complete the first round undefeated. They scored 328 points in the round while conceding just 29. The Blues have now won 19 games on the trot and haven't lost since 12 June last year.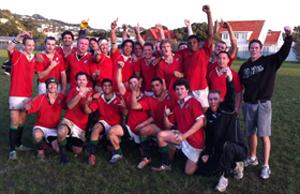 Not to be outdone, the under-85 Reds (bottom right) took out the Division 2 first-round title with a decisive 32-0 win over Petone. The team is coached by Mark Witkowski, Matt Smith and Chris Desmond, and captained by Matt 'George' McGrannachan.
For the club's third under-85 side, the Greens, wins have been harder to come by. But under new coach Roy Montgomery they're coming together well and are bound to register some good results in the second round.