O'Connor ready to lead from the front
Isaac O'Connor is about to embark on his second season as captain of Marist St Pats. 2015 saw him lead his side to second place in both the Swindale Shield and Jubilee Cup competitions and was a big personal learning curve for him. 'I have looked back at most of the games last year and there are a few moments when in hindsight I may have done some things differently. I think sometimes you learn more out of a defeat than a victory so from last year we will grow from the experience of losing the final... I can't wait for this year, myself and the senior guys are really trying to bring in a culture of extra work and constant improvement.'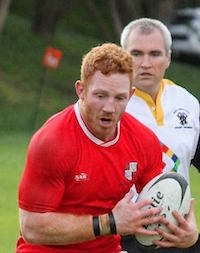 That desire to constantly improve has seen Isaac move from a super sub in the 2012 Jubilee Cup winning campaign to now being the inspirational leader in the engine of the Red Machine. The 2015 Marist St Pats Sportsman of the Year and a debutante for the Wellington Lions, Isaac is setting more goals for the season ahead.
'First and foremost I want to win the Jubilee Cup but in doing so I want to keep getting better and better as a player. I was fortunate enough last year to get a shot at my goal of being a professional rugby player, the small taste I got just made me that much hungrier for more, so I can't wait to start playing!'
Having injured his ankle four weeks ago training with the Hurricanes Development team, Isaac hasn't been on the field much during preseason but he is on track to play his 75th match for Marist St Pats when the Swindale Shield kicks off this week. He jokes that there will be no side-stepping until week three though!
While he has spent some time on the sidelines through the preseason he has had time to evaluate the talent of his team mates. He rates youngsters Ken Kapeli and Mike Buckley as players to watch this season while valuing the return to the forward pack of Matt Peni (injury) and Lucky Tuia (Ories). The return of Isaia Petelo from international duties to combine with old mate Ryan Setefano and new recruit Tyler Tane is also an exciting prospect.
With Premier and Premier Reserve rugby just days away, Isaac encourages supporters to get down to Evans Bay Park to watch an exciting brand of rugby. The boys love playing in front of a big crowd!
Marist St Pats Premier and Premier Reserve sides kick off this Friday afternoon against Paremata-Plimmerton at Evans Bay Park.