Eighty-minute performance in win over Ories
MSP turned on one of their most complete 80-minute performances for several seasons when they defeated Jubilee Cup holders Ories 32-10 on 5 May (see video highlights below).
On a sunny Evans Bay Park in front of a big Past Players and Supporters' Day crowd, the home team attacked the Ories line from the opening whistle and never lost their focus for the rest of the afternoon.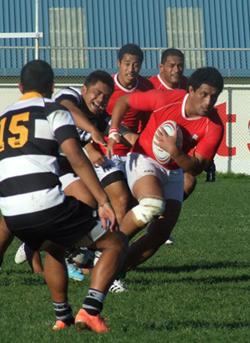 Hard running No 8 Tevita Ah Wong (pictured) crashed over for the first try after 15 minutes, and was in again 20 minutes later following some slick interpassing from wing Paul Tuia and first-five Fa'atonu Fili.
Ories picked up their first try after an MSP defender lost sight of a high ball in the bright sunshine but the 14-5 halftime scoreline didn't really reflect MSP's dominance.
Five minutes after the re-start, the Ories backs, who looked threatening all afternoon, swooped on some careless MSP play to score at the other end of the park. Hurricane Jack Lam came on for Ories but two Fa'atonu Fili penalties helped steady the MSP supporters' nerves and push the lead out to 20-10.
Fifteen minutes from time, Nick Wanden scored down the blindside after taking an inside pass from substitute prop Donald Brighouse. With eight minutes to go, the game was secured when substitute hooker Ano Kapeli stuck out a big paw to ground the ball from a lineout drive.
Visiting Argentinian referee Francisco Pastrana had a generally good game and his reluctance to blow the whistle let a physical but entertaining match run its course. It was a top team performance by MSP with lock Dan Turner being adjudged player of the day.