Another shot at the Jubilee Cup
The Jubilee Cup still holds its magic for veteran prop Kas Lealamanua who will be aiming for his fifth Cup success in this Sunday's final against Ories.
As a 20-year-old, Kas came off the bench in MSP's 1997 triumph. 'We've been joking about it in the team in the last few weeks. I played my first prem game when [fullback] Andrew Wells was three.'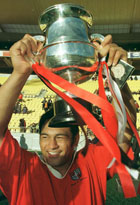 Kas Lealamanua: a Jubilee Cup-winning captain in 1999, and in action earlier this year.


Kas was part of four Jubilee Cup-winning teams in five attempts. As captain, he held up the Cup in the last final ever played at Athletic Park.
This year, he had only planned to have a run with the reserves or presidents. 'I told Henry Fidow I'd play for his team but the club asked me to help out because there were a few injuries and I thought I'd give it one more crack.'
Several other premiers are in the over-30s club and, while that experience is vital in big games, he's impressed by the new talent in the side. '[Coaches] Clayton and Murray have brought the team together well. They've got great ideas and the guys are just enjoying playing for each other.'
Winning a Jubilee Cup is an excellent way to start a rugby career, he adds. Kas played 34 internationals for Manu Samoa, five seasons professionally in France for the Biarritz and Dax clubs, and the last two seasons for the Hawkes Bay NPC team.
Now settled back in Wellington with wife Ebony and two young children, his rep days are over but he'd love to add another Cup, 'a lucky last', to the tally. 'Wherever you play club rugby it's always the aim to win a championship.'