Where are they now? Trent Eagle

We catch up with players and club members from years gone by and see what they're up to now...

Trent Eagle

Centre 1998-2005
Jubilee Cup champion 1999, 2001, 2002

Trent Eagle was a lynch-pin in the Marist St Pats backline at the turn of the millennium. After joining Marist St Pats midway through his Premier career, he quickly formed a formidable midfield partnership with Norm Broughton - one that led to three Jubilee Cup victories. Trent was captain of the 2002 Championship side.

What are your favourite memories from your playing days?
Favourite memories would be my first Jubilee Cup win in 1999; after nine seasons of Premier rugby for other clubs this meant a lot. What I look back on now and enjoy are the friendships, nothing else forms friendships like rugby.
Who are some of the characters you remember?
Back in the early 1990s there were lots characters, Isaac Adams, Ash Pointon, Richard Watt and I have lot of stories...
My first Premier rugby game was for Upper Hutt; I was 19 and Allan Henderson (first five for Upper Hutt at the time) took me to Tawa for kicks on the ground as I was from the Wairarapa and I had never been to Tawa.
It was Friday night and we kicked the ball around for a while before heading home. Allan, who was a Police Officer, said lets call into the Police College for a beer. Six hours later we get home at 2am and I sleep outside the door as I can't get the key in the lock!
We won but I had a shocker - not a great way to prepare for your first game, but it was an experience!
Watching Lome Fa'atau doing one arm press ups in Byron Bay in the middle of a road stopping traffic is also a memory I remember with fondness.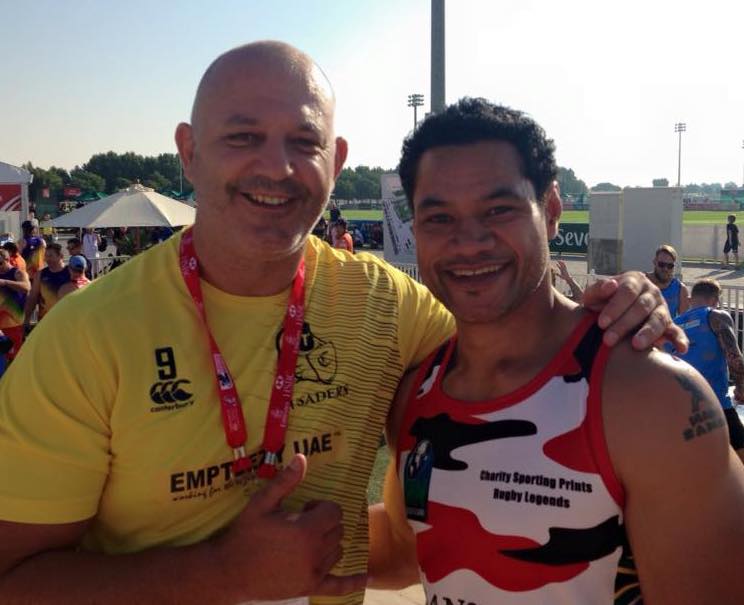 Trent with Lome Fa'atau in Dubai, 2015

Who was your toughest opponent?
Before I came to Marist St Pats I didn't enjoy marking Kelly Rolleston actually. He was a very good footballer with a hard attitude that I really respected. I wish I had moved earlier and had the chance to play with him.
What have you been up to since you finished playing?
I moved to Sydney ten years ago and now spend my time raising my seven year old girl, who is by far my best accomplishment.
How do you still follow the club?
I talk regularly with ex-players, some now coaching, and I follow the Marist St Pats website and Facebook closely along with clubrugby.co.nz

Advice for the current team?
Second is not acceptable and its okay to be annoyed at losing. I know the PC world says its okay to lose but it doesn't mean you have to accept it!
Top Photo: Marist-St Pats Rugby team after winning Jubilee Cup. Further negatives of the Evening Post newspaper. Ref: EP/1999/2272/30-F. Alexander Turnbull Library, Wellington, New Zealand.

http://natlib.govt.nz/records/22792845
---
Are you looking to reconnect with rugby in 2017?