Ambassadors Sevens kicks off this weekend
The biggest prize in Wellington club rugby sevens is the American Ambassadors Trophy which kicks off this weekend with the first of three legs being played at Maoribank Park in Upper Hutt. Our Mens and Womens teams have been preparing for the tournament over the past month.
Men looking to go one better after winning Plate at Tawa

Our Men's Sevens had a good hit out at the Tawa 7s tournament last Saturday with two MSP sides competing. The 'Red' side took out the Plate, beating the home side 24-19 in the final.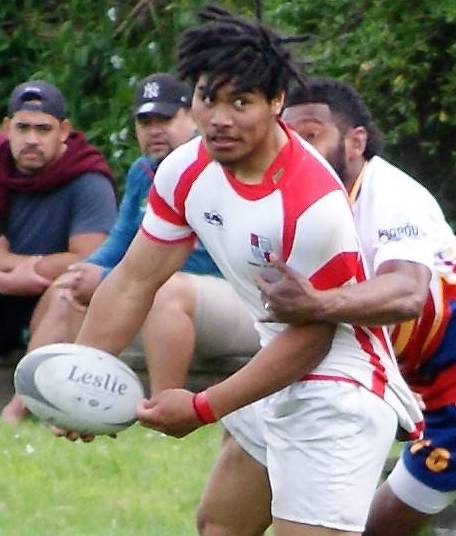 Coach Fa'atonu Fili said the tournament was a chance for players to step up and to see some guys have their first taste of Sevens rugby. 'Our depth will be tested this weekend as we have a few injuries, but we've all trained hard together and built up a strong brotherhood.'
Key playmakers Ken Kapeli, Willie Schutz and Tovio Apolo will be out with injury while James Tuiatua, Matt Peni, Naitoa Ah Kuoi and Isaia Petelo are with the Wellington Development side. But we welcome back Rez Tasele who was unavailable last weekend and potentially Ryan Setefano who is looking to return from a torn rotator cuff injury.
Coach Fili points out that there are some exciting players to watch including Kerrod Foaese, 'he's just a natural 7s player and is a nightmare for opposition defences' and Elijah Fonoti (pictured) who 'has worked hard and the results are paying dividends through the way he is playing'.
'Bernard Schutz plays way above his weight and never takes a step back; also Willy Sauea has the goods to be something special. He is elusive on attack and is rock solid on defence - small man with a big heart.'
Women look to defend Ambassadors title

Our very successful Womens Sevens side are ready for their first hit out for this season having won the Ambassadors Tournament in 2017 (right).
Coach Ryan Setefano has again been mentoring the side, 'we've been big on culture again this year, setting a high standard from the start with some hard work, it's also been enjoyable.'
'We put an emphasis on individual growth on and off the field. We just really want to wear the jersey with pride and be the best versions of ourselves in it. Most of all it creates a chance to express ourselves and enjoy the sport - and hopefully represent those that are important to us and also our club.'
Like most clubs we will be without our four Wellington Pride players girls for this week but they are expected to join the squad for the second and third legs of the tournament.

There have been three new players join our programme this year. With backgrounds in Volleyball, Hockey and Athletics, each has injected something new and special into the group.
Emma Kruzsona who has come across via the Ignite7 campaign comes from an Athletics background and specializes in the hammer throw, Coach Setefano is looking forward to seeing how she goes on the rugby field.
Regular Paige Va'auli continues to grow with each season on the wing, while Siobhan Solofuti is a courageous hard worker and gives everything she has to the jersey.
With solid preparations, the side is looking forward to getting out on the field!