Pago heads to LA to chase his American dream
Marist St Pats took some delight in seeing our very own Pago Haini selected to play for the USA Sevens team earlier this year. We are excited to now share the news that Pago has taken the step to move to Los Angeles to chase his American rugby dream.
Four days after appearing for the Red Machine in our opening round win over Tawa, Pago was on a plane headed for Tinseltown as he continues his quest to claim a spot in the United States national team.
Having spent time with their national Sevens team, the opportunity to live and train in America was one that Pago couldn't turn down knowing it would make him more accessible to selectors and local training camps.
'Leaving the club was a very tough decision. My relationship with the boys and the club has been very tight and the guys have become very close friends as well so it was hard but change can be good! Wellington has become a home away from home for me, hopefully I will get to wear the red jersey again in couple years.'
Pago will play out of the Santa Monica Rugby Club, a club who has won the national championship five times. They are approaching the end of their 15s season, so he will play out the last few rounds before concentrating on Sevens. He will also be training with the national team at the Olympic centre in San Diego.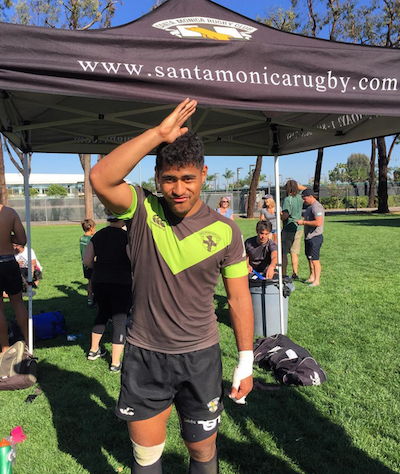 Heading to Santa Monica, Pago's in for a new adventure as the local club scene is new to him. But he knows he'll be joining one of the top clubs in the Division 1 competition. 'Which is exciting because it's always good to explore new things in life. I'm really looking forward to joining the club and see what America is like.'
In terms of his next goals, 'My next steps will be trying to make the national side and back in the Eagles set up - that is the ultimate goal. But in the short term I'll be trying to help Santa Monica to get into the National Championship.
By all accounts he is settling in fine with his new rugby club and is enjoying some of the benefits of living in the 'Entertainment Capital of the World', recently meeting Los Angeles Clippers centre DeAndre Jordan (picture below).
Pago ran out for Santa Monica last weekend in their 50-24 win over rivals Belmont Shore - the club where Valentine Meachen played over the summer!

We'll keep you posted on Pago's journey as he chases that dream!
---
Are you looking to reconnect with rugby in 2017?